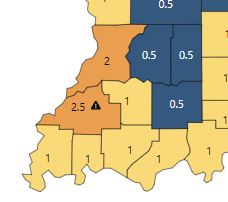 Four Indiana counties are now in the Orange category on the state's COVID county metrics map.
A county goes Orange when the 7 Day All Tests Positivity Rate is 10 to 15%.
Knox, Gibson, Montgomery and Newton counties are in the Orange.
Sullivan and Pike went from Blue to Yellow this week. Daviess and Greene Counties remain in the Blue.
Knox and Greene Counties had 3 new cases on Wednesday's update from the Indiana Department of Health. Sullivan and Pike had 1 new case each. There were no new cases in Daviess County and there were 19 new cases in Gibson.
As reported earlier this week, the Knox County Health Department is recommending masking up whether your vaccinated or not and is urging the unvaccinated to get their shots.