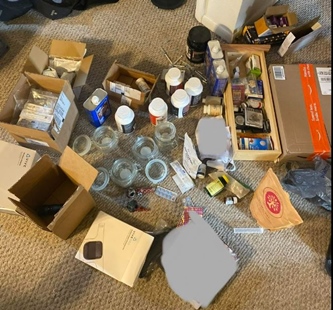 A persistent drug problem in Dubois County has been brought to light.
That's the word from the Dubois County Sheriff's Department.
They reported earlier this week that in just 9 days they made nearly a dozen felony drug arrests.
The investigations turned up over 52 grams of meth, a half gram of cocaine, over 250 syringes and a manufacturing lab that produced the psychedelic drug, DMT.
Sheriff Tom Kleinhelter says the 11 arrests don't include arrests from other law enforcement agencies and police department in Dubois County.
Kleinhelter also says that his deputies have worked, and continue to work extremely hard to try and combat the drug issues and the arrests are direct evidence that Dubois County has a drug problem which won't get better without proactive policing and consequences.
—-
Arrested by the Sheriff's Department were:
Joseph E. Fransted – Possession of Meth – (Level 6 felony) – (1.5g meth)
David A. Schutz – Possession of Meth (level 6 felony), Possession of Paraphernalia (C Mis.), Possess Marijuana (B Mis.) – (4.6g meth, 3.5g marijuana)
Devin R. Miller – Dealing/manufacturing in a schedule I controlled substance (level 5 felony), possession of an anabolic steroid (level 6 felony), possession of precursors w/ intent to manufacture controlled substance (level 6 felony), possession of a syringe (level 6 felony), maintaining a common nuisance (level 6 felony), possession of a controlled substance (A Mis.), possession of paraphernalia (A Mis.), Possession of a Device used to interfere with a drug or alcohol screening test (B Mis.). Miller was on probation for a prior criminal charge. The Dubois County Sheriff's Office was contacted by Dubois County Probation to assist in a home search at Miller's residence. During the search, evidence of the crime indicated the manufacturing of DMT, a psychedelic drug. Mr. Miller was jailed again on numerous drug and manufacturing charges and later posted a $5,000 bond.
Amanda M. Canary – Possession of Meth (level 5 felony), Trafficking with an Inmate (level 5 felony), Possession of Paraphernalia (A Mis.) – (search of person at the Dubois County Security Center) (7.8g meth)
Jose J. Cruz-Mora – Possession of Cocaine – (level 6 felony) – Cruz-Mora was on probation for residential entry from a previous case. Probation contacted the Dubois County Sheriff's Office to assist in a home search. DCSO Detectives went to his residence and found Cruz-Mora to be in possession of cocaine. Cruz-Mora was jailed and later posted a $1,500 bond. (.5g cocaine)
Craig S. Strotman – Possession of Meth (level 6 felony), Possession of paraphernalia (C Mis.) – (3.5g meth)
Cassandra B. Cole – Dealing in meth (level 2 felony), possession of meth (level 3 felony), dealing in schedule IV-controlled substance (level 6 felony), possession of legend drug (level 6 felony), possession of syringe (level 6 felony), possession of controlled substance (A Mis.), Dealing paraphernalia (A Mis.), Possession of paraphernalia (C Mis.) – (miscellaneous narcotics, 34.8g meth, 246 syringes)
Steven D. Street – Obstruction of Justice (level 6 felony), maintaining a common nuisance (level 6 felony), possession of a syringe (level 6 felony), possession of paraphernalia (C Mis.) – (search warrant from drug investigation) (syringe and paraphernalia)
Stormi R. Cole – Maintaining a common nuisance (level 6 felony), possession of a syringe (level 6 felony), possession of paraphernalia (C Mis.) – (search warrant from drug investigation)
Garrett D. DeHart – Maintaining a common nuisance (level 6 felony), possession of paraphernalia (C Mis.) – (search warrant from drug investigation)